&nbsp &nbsp &nbsp &nbsp Studio 55 Marin
Premier Live Music Listening Room
1455 East Francisco Blvd., San Rafael, California
Drive To

For Live Music

Performance Hall
& Music School

Live shows presented by

a registered 501c3 non-profit

Traditional Music
Instruction
---
UPCOMING SHOWS
If you can't play the videos on this page, you probably just need to upgrade your web browser
---
This tour supported by

Saturday, October 11 - 8:00pm - $17 Advance / $20 at door

Traditional Band on Tour from Country Clare, Ireland



The band comprises two brothers, Shane and Fiachra Hayes on accordion and fiddle/banjo and accompanied by Aodán Coyne on guitar and vocals.
This young trad trio from County Clare blend Irish traditional melodies with and innovative rhythmic and melodic garnish. These socks are audibly palatable! As for the inevitable question of where the name originated? This is yet to be disclosed!
Having gained a fan-base from four years of gigging around the west of Ireland, this exciting group have recently started branching out and have been well received for their modern traditional style and energetic approach to music. This, combined with an acoustic musical interplay, three-part harmony and an obvious love for live performance, compliments the traditional essence of both tune and songs in a fresh and entertaining way. Their debut CD was launched at the Ennis Trad Festival in November and was received very well with an audience exceeding the capacity of the venue. The CD itself offers a dozen lovingly crafted tracks which the lads are eager to showcase both on the album and at their musically charged gigs.
Their Sound flows in magnetic, energetic waves, so does their banter on stage - Irish Music Magazine
They wrap traditional Irish tunes in modern garments and spice them up with driving grooves - Folkworld
High-energy playing, fancy ornamentation and frolicsome arrangements - The Journal of Music
---
ethereal renaissance
pop songstress

Friday, October 17 - 8:00pm - $15 advance / $18 at door

Lloyd Barde Productions Presents:

In her Bay Area Concert Debut

Links for Tickets &nbsp &nbsp &nbsp &nbsp



Video of Kristin performing her song Open
Video of Kristin performing her Song for the Ocean
Kristin Hoffmann offers a uniquely beautiful blend of pop and classical styles. Kristin is a singer-songwriter who has a gift, one we can all experience through her ability to be open. As a human compass, she navigates through her own waters right into ours, with sound, like poetry without words. Her perfect pitch is a serene perfume. We, as an audience, are the witnesses and we watch as she volunteers her soul's journey. Starting at the age of 4, this ethereal renaissance pop songstress and multi-instrumentalist began building a prolific career that reads like a lifetime achievement award speech. In addition to stints at major record labels and song placements on hit TV shows like Dawson's Creek and Palmetto Pointe, she has shared stages with The Wallflowers, Feist, Brandi Carlile and many other musical luminaries. With a strong sense of artistic altruism, she is most passionate about projects that explore music's healing power and allow listeners to tap into their higher potentials.
Having studied with Sound Healing pioneer Fabian Maman, Hoffmann not only made music to accompany acupuncture sessions but also composed 170 songs for health-challenged children as a writer/producer at non-profit organization Songs of Love. A spokesperson for ocean conservation, she has performed her Song for the Ocean at environmental awareness conventions around the world. In 2011 she became the singer for Bella Gaia, a multimedia immersive theater ensemble experience created in conjunction with NASA. Her most recent work includes a self-produced album entitled The Human Compass (2012) and a symphonic collaboration with composer Marco Missinato called Unfolding Secrets: A Symphony of the Heart.
Similar perhaps to Tori Amos, Stevie Nicks, Fiona Apple, and Joni Mitchell, she easily slides into a Tina Malia or Donna De Lory vein at a moment's whim, switching with ease between guitar and keyboards . With half a dozen powerfully varied releases over the past decade and praise-filled reviews, Kristin is an artist to embrace, discover and move mountains with.
---
Amazing band returns to Studio 55 for 3rd Time

Saturday, October 18 - 8:00pm - $15 advance / $18 at door

3 women, 2 men, 2 fiddles, cello, bass, mandolin, & three part harmonies



Live video of Run Boy Run performing Back in Time
Live video of Run Boy Run performing Willow Garden
The unique sound of Run Boy Run is rooted in the traditional music of the Appalachian South. In recent years, bands like Nickel Creek, Crooked Still, and others have revived a sense of innovation in traditional American music. Run Boy Run continues this journey into music that is dynamic, orchestral, and overflowing with beauty. Three strong female voices weave a spectacular tapestry of sound. Award-winning fiddle cuts a path for a tightly formed rhythmic front. Every arrangement is - at it's core - beautiful.
From winning the band contest at Pickin' in the Pines to playing on stage at the Telluride Bluegrass Festival as band contest winners in 2012, to making a second appearance on A Prairie Home Companion in St. Paul in 2013, Run Boy Run is spreading this special brand of music to all who would hear. With the release of the full length album So Sang the Whippoorwill in March of 2013, Run Boy Run is making more people dance, cry, and sing than ever. A Prairie Home Companion host Garrison Keillor was impressed enough that he penned the liner notes to this CD.
Brother and sister, Matt (fiddle, guitar) and Grace Rolland (cello, vocals), have fiddle music running through their blood. Raised with bow and rosin on every bedside table, Run Boy Run was a natural fit. Sisters, Bekah (fiddle, vocals, guitar) and Jen Sandoval (mandolin, vocals), grew up deeply rooted in the Bluegrass festivals of Arizona, so they too found a home in Run Boy Run. Jesse Allen (bass) was brought up on opera and western swing, and grew to love the natural fusion inherent in American music. The whole truly exceeds the sum of the parts as touches of classical, jazz, and folk express themselves through the old-time core of Run Boy Run's unique sound.
When I hear Run Boy Run, it all comes back to me, why I started doing that show back then. I hope they go on forever. - Garrison Keillor, A Prairie Home Companion
---
new album went to
#2 on iTunes
World Music Charts

Thursday, October 23 - 7:30pm - $15 Advance / $20 at door

featuring Ezra Landis on guitar and Tripp Dudley on percussion

Links for Tickets &nbsp &nbsp &nbsp &nbsp



Healing, Hypnotic, Mystical, and Majestic are just a few of the words that are frequented when describing the music of Simrit. Born to a Greek singer in Athens, Greece who wasn't able to take care of children at the time, Simrit was adopted into the United States and raised in South Carolina by another Greek family when she was just over a year old. She was steeped and studied in the mystical Byzantine music of Greece from a young age and also influenced by the classical and folk music of Greece. She also grew up expanded by the swirling sounds of Singh Kaur, Led Zeppelin, Mazzy Star, Bob Marley, Jeff Buckley, Loreena McKennitt, the devotional music of India and Africa, and many others. As a child she was joined and raised with a brother with special needs who was also adopted from a different family in Greece. With her unique upbringing with no one in her family that was blood related, Simrit learned at an early age that connection is incredibly deep and profound through the heart and soul. Her voice has been what she has always experienced as her true connection to herself and others. Simrit's energy and music have a way of merging the soul, deeply touching people and understanding them.
Simrit is an independent artist who runs her own record label, Simrit Kaur Music. She has taken on all the roles of her label, and has recently formed a team that has been crucial in her growth and development. She has released three self-funded albums so far. Two of them have hit the iTunes Top World Charts, with her newest self-titled album reaching the #2 spot. A prolific artist with a deep and natural connection to melody, Simrit is currently working on her 4th album to be released in the summer of 2015. She will have released four albums in just five years. She tours the globe and has played throughout the USA, Mexico, Canada, China, and she continues to travel to new countries to share her gifts of inspiration and healing through music. She is a Renaissance woman who revolutionizes mantra music and uses her music as a contribution for the gathering and healing of the people.
The Revolution is the courage to be who we really are. To speak our truth in the midst of fear. To be authentic, no matter what people may think or say. It is the strength to walk alone knowing we are not alone, and it is the strength to walk together in the unknown. And knowing together in our true connection through the heart that we can make a difference in each other's lives. - Simrit
---
A 3-woman round-robin pastiche

Saturday, November 8 - 8:00pm - $15 Advance / $18 at door

Global, Local & Homemade Songs TM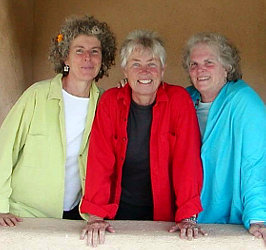 Whether it's a polyrhythmic groove on juju magic, a playful musing on the rhythm of the heartbeat, a march about the mating season of tarantulas, a swing on spring fever, or rockin' and rollin' with a ride on the happiness train, Terry, Becky & Elise cook from the minute they hit the stage. Bringing 3 uniquely different voices to the blend, their harmonies spread a web of joy and the delight of singing together.
ELISE WITT (from Atlanta, Georgia) . From the melodies of her birthplace in Switzerland, the rhythms of Africa and Latin America, her North Carolina childhood, to the writing of her own songs, Elise's music is a gumbo that spans styles, genres, countries, and times. Her straightforward charm and pure, strong voice are truly fine music to the ears. Elise speaks fluent Italian, French, German, Spanish, and English and sings in over a dozen languages. She has 11 recordings on the EMWorld label. Her songs have been used in several documentary films, and include the anthem Open the Window. Elise has crisscrossed the United States performing her songs, including at Carnegie Hall and Lincoln Center.
BECKY REARDON (from Taos, New Mexico). Becky's silky jazz-infused sound coupled with a deep connection to nature and expert guitar work make her music a must. Her songs and rounds are sung in song circles and by university and community choirs all across the United States, Canada, and the British Isles. Becky was a featured performer at the international GALA Festival of Choirs in 2012, and her song Venus was performed during the NASA webcast of the Venus transit of the sun in June last year.
TERRY GARTHWAITE (from Marin). With a voice both "sassy & touching", and a taste for fun, Terry has been creating infectious music since the '70s in the Joy of Cooking band. She cooks with rhythm. Terry is an internationally known singer, songwriter, composer, producer, and teacher. In addition to her several albums with Joy of Cooking, Terry has recorded a dozen others by herself or in collaboration with other jazz and blues musicians. In performance she has shared the stage with such artists as BB King, Janis Joplin, Bonnie Raitt, The Band, Allen Ginsberg, Santana, Rosalie Sorrels and writer Bobbie Hawkins at venues that include Carnegie Halland the Hollywood Bowl.
---