&nbsp &nbsp &nbsp &nbsp Studio 55 Marin
Premier Live Music Listening Room
1455 East Francisco Blvd., San Rafael, California
Drive To

For Live Music

Performance Hall
& Music School

Live shows presented by

a registered 501c3 non-profit

Traditional Music
Instruction
---
UPCOMING SHOWS
If you can't play the videos on this page, you probably just need to upgrade your web browser
---
Studio 55 Proprietors Ken & Susan's Band

Saturday, November 22 - 8:00pm - $13 Advance / $15 at door

Solo Performance Debut at Studio 55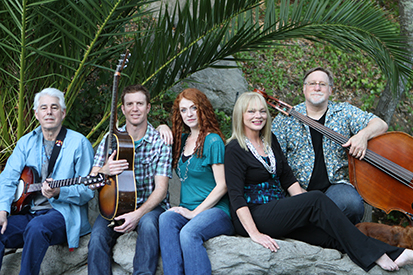 Like the mythical sea maidens of old, Sound of Sirens are mesmerizing audiences with scintillating vocal harmonies and intricate instrumental arrangements. As a finely-woven ancient fishing net, the Sound Of Sirens music will capture and hold you riveted from start to finish. This show will feature blues and rags from the 1920's, old-time traditional songs, originals, and our own take on more recent songs from other composers including Paul Simon and Gillian Welch.
Ken Frankel (guitar, banjo, mandolin) has been part of the California music scene since the 1960's, performing in bands with music notables such as Jerry Garcia, Richard Greene, Rick Shubb, Sandy Rothman, Robert Hunter, and Tom Constanten. Ken's rock band Ill Wind was a New England phenomenon and a leader of the psychedelic music scene, recording with ABC Records. Ken has formed and been a member of many prestigious Bay Area groups including Westwind International Folk Ensemble, The Berkeley Mandolin Ensemble, and The Electric Guitar Quartet. Ken and Susan's most recent band was the well-loved Family Lines.
Susan Nielsen (vocals, percussion) has shared stages with Bob Hope, Merv Griffin, Dick Cavett, Alan Alda, John Madden, Bill Cosby, and other national stars. Susan was a featured soloist as a teen at many Bay Area venues and concerts and worked as a professional studio singer. In her 20's she began a successful acting career in film and television and as a voice-over artist. Susan is a member of Screen Actor's Guild and American Federation of Television and Radio Artists, and has now returned to her musical roots as a vocalist and composer.
Kristina Ziese (vocals, percussion) was classically trained for 10 years, sang in many popular bands in Seattle as well as performing as a soloist and in chamber groups. She now has moved to the Bay Area to become one of our "Sirens".
Jared Karol (guitar, harmonica) is our new guitarist. He is a wonderful roots finger-picker and harmonica player, specializing in rags and blues, but great at all acoustic styles. In the early 2000's Jared was an integral part of the San Francisco singer/songwriter scene, and has recorded five CDs of original music. Jared expanded his musical repertoire in the East Bay reggae band Flannel Canoe for five years, and is now back to playing the American roots music with Sound of Sirens.
Scott Underwood (bass) has performed with various Bay Area music acts since the 1980s. In the last ten years, he has played electric and upright bass with such musicians as Annie Zesiger, Harry Gray, Mike Steed, Rick English, and Rik Elswit, and as a member of the alt-country-pop-rock sextet Acoustic Son.
---
Stunning
Devotional
Pop Music

Saturday, December 6 - 8:00pm - $25 advance / $30 at door

Lloyd Barde Productions Presents:

one of the most beautiful & alluring voices on the planet

Links for Tickets &nbsp &nbsp &nbsp &nbsp



There is nothing like a Donna De Lory Concert! The more intimate the better. Studio 55 Marin is the perfect intimate setting for Donna, and space is limited! Donna is one of the finest singer/songwriters in the realm of spiritual pop music with a voice that is unparalleled in its versatility and emotional expression.
Donna De Lory's new album "The Unchanging" is one of the most deeply personal artistic statements in her deep catalog of mantra music classics. But it resonates on a universal level as well, bathing the listener in chilled out electronic textures, world flavors, sonorous string arrangements, tender balladry and lyrics that touch on the heart's eternal truths. And, as always, Donna's sublime voice has the power to lift us all into realms of pure bliss.
With a string of best-selling and much-loved albums including The Lover and The Beloved (2004), Sky is Open (2006), Sanctuary (2008) and Remixes (2010), Donna De Lory has become one of the reigning queens of world devotional music. Her rapturous performances at yoga and consciousness festivals like BhaktiFest, Omega and Lightning in a Bottle are like one big musical group hug. But before devoting her life to singing sacred mantras and lyrics of spiritual aspiration, Donna traveled the globe for 20 years as a backup singer and dancer for Madonna, and rocked international dancefloors with her own pop music. Donna's latest album, The Unchanging, is a joyous distillation of all that vast experience. De Lory's musical perspective is as wide as the world itself a glistening, multifaceted reflection of her broad experiences in life and music, all while raising a family and expanding her musical vision beyond the imagination.
With fearless vision and consummate mastery, Donna De Lory has appropriated the grand scope and all-inclusive universality of pop music and married it with the heartfelt purity and emotional honesty of devotional music. Above all, it is Donna's voice, fiery and passionate yet with a childlike innocence, that reaches people.
Donna rocks us again with the divine elixir of her extraordinary voice remixed with new music alchemy for yoga, dance, and making love to life... Donna's concerts bring the house down and raise the sky. -- Shiva Rea
---
part of world tour -
only bay area concert

Saturday, January 31 - 8:00pm - $15 advance / $18 at door

Famous Canadian Fiddler, Step Dancer and Singer-Songwriter



| | | |
| --- | --- | --- |
| Official Video of April's song Broken | Video of April stepdancing | Video of two fiddle tunes |
The story of how Verch came to be a brilliant interpreter of tradition is just as striking as the results. Practically from birth she was immersed in folk music and dance from her native Ottawa Valley, a melting pot of Franco-Celtic flavors brought by the hard-working loggers who settled the area. Ferried to dance-filled old-time gatherings and country & western jamborees by her music-loving parents, she followed her older sister into step dancing at age 3, and picked up the fiddle at age 6. She was lucky to have the chance to start studying, performing and competing in both so early, but there's no question that she also made the most of it.
Says Verch, I was fortunate to have an opportunity to grow up performing with a lot of people that didn't make their living playing music, but were the local country music stars. And I remember my parents asking them questions and having them talk to me and tell me how hard it was to have a career in music. I think the reason I did some of the things I did so early on, such as recording my first album at thirteen, was because I thought, 'I know this is hard, but I'm still going to do this. So I'd better get going.' In a sense, their way of trying to warn me just made me push all the harder.
By the time Verch graduated high school, she'd won the Canadian Open Old Time Fiddle Championship and released a pair of albums, followed by a year at Boston's prestigious Berklee College of Music and a win at the Canadian Grand Masters Fiddling Competition, which made her the first woman ever to take both of her country's two top contests. From there she dove into a full-time music career, signing with Rounder Records for a trio of albums and starting to put her delicate soprano to use and experimenting with a more contemporary palette.
Verch looks back on that earlier era with clear-eyed perspective. I was always true to myself in performing stuff that I liked, she reflects, but I think I was also trying to please a lot of people. I mean, we were playing bluegrass festivals, Celtic festivals, folk festivals. And I was just really trying to do everything I could to make sure that this was a career that was going to last. Now I've been doing this long enough that I've realized I'm the one playing the music every night - I'd better love it. And if I'm loving what I'm playing, it's going to get across no matter what. I think it's just a part of growing up and realizing that I don't need to try so hard to please everyone. We are the April Verch Band, and this is what we do. That's what people love about us.
There's a lot to love. The April Verch Band - rounded out by bassist and clawhammer banjo player Cody Walters and guitarist Hayes Griffin, who has a Masters in jazz improv from the New England Conservatory - is an energetic, virtuosic, tradition-celebrating outfit, not to mention one that's not soon forgotten when they depart the stage. It doesn't hurt that the thrilling grand finale involves Verch fiddling and step dancing - and often executing two entirely different intricate rhythmic patterns - at once.
---
Wonderful night
of guitar and harp-guitar

Thursday, February 5 - 8:00pm - $15 advance / $18 at door

World-Famous Fingerstyle Guitarist



Live video of Muriel's amazing bluegrass medley
Live video of Muriel playing harp guitar
One of the world's foremost fingerstyle guitarists and harp-guitarists, Muriel Anderson is the first woman to have won the National Fingerstyle Guitar Championship. An engaging performer, her obvious joy of music, humor, and facility across musical genres is revered by guitarists and audiences worldwide. She has recorded with country legend Chet Atkins, performed in New York with Les Paul, across the globe solo, in ensemble and with orchestras. She is host and founder of Muriel Anderson's All Star Guitar Night, the premiere live music event for over 20 years at the semi-annual NAMM music trade shows, and also the founder of the Music for Life Alliance charity. She is a prolific composer of music on guitar and harp guitar.
Her unique approach to the instrument virtually transforms the guitar into a lyrical choir, then a marching band, then a Japanese koto, then a Bluegrass band, one minute launching into a Beatles tune and the next, Rodrigo's Concerto de Aranjuez.
Her Heartstrings cassette traveled into space, accompanying astronaut Susan Helms for 2.3 million miles on the space shuttle Discovery. Muriel's music can also be heard in Woody Allen's film Vicky Cristina Barcelona. She enjoys touring as is evidenced by her "photos from the road" and "recipes from the road" on her website. Her new double CD Nightlight Daylight is a culmination of her creative spirit, and is also the first CD to incorporate fiber optics in the packaging.
Muriel fell in love with the guitar at an early age and learned every style available to her, beginning with folk, bluegrass, and then jazz in high school. She received a degree in music from DePaul University and went on to study with classical virtuoso Christopher Parkening and with Nashville legend Chet Atkins. She has composed music since about age five, and has written solo instrumentals and vocals, choral and orchestral compositions.
---
great cello music
will keep you safe
on Friday the 13th

Friday, February 13 - 8:00pm - $14 advance / $17 at door

Cello Like You've Never Heard Before



| | | |
| --- | --- | --- |
| Live Video of Bessarabian Girl | Video of Typewriter Two-Step | Live Video of Live Another Day |
Starting with a bang and never stopping, Dirty Cello features the virtuosic cello stylings of Rebecca Roudman, one of the San Francisco bay area's most exciting cross-over cellists. Dirty Cello takes you on a wild tour of uptempo music featuring down home blues, Eastern- European dance music, a bit of bluegrass, and some classic rock.
With a truly unique voice, Dirty Cello presents a high energy performance of everything a cello can do. Having wowed audiences in numerous tours throughout the U.S., plus acting as cultural ambassadors to China and working the Europeon festival circuit, Dirty Cello has a unique voice that's resonated around the world.
---