&nbsp &nbsp &nbsp &nbsp Studio 55 Marin
Premier Live Music Listening Room
1455 East Francisco Blvd., San Rafael, California
Drive To

For Live Music

Performance Hall
& Music School

Live shows presented by

a registered 501c3 non-profit

Traditional Music
Instruction
---
UPCOMING SHOWS
If you can't play the videos on this page, you probably just need to upgrade your web browser
---
| | | |
| --- | --- | --- |
| | Sunday, November 2 - 3:00pm - Free Admission ($10 Donation Requested) | |
As this band writes on their web site, We came together in San Rafael, California in the spring of 2013 as part of an Americana ensemble class with Roots Music Marin, a small community music school dedicated to teaching our corner of the world how to play acoustic music. The six-week course was led by fiddler and instructor supreme, Steve Gardner (Culann's Hounds, Beso Negro), whose motto from day one was "everyone solos, everyone sings!" Dude meant it, too. Steve helped us work out arrangements of some great songs that we still play, and pushed us to improve on our individual instruments and as a band.

&nbsp &nbsp They describe themselves as a San Francisco Bay Area band that plays acoustic-based original roots music and versions of some of our favorite traditional, country, Americana, and rock songs. We are Jason Loeks on upright bass, Evan Kishineff on guitar, Alexis Hyatt on fiddle, Dan Gabel on mandolin, Dave Tavel on drums, with everyone contributing vocals.

In addition to his many students, Steve also teaches a regular Americana band class at Roots Music Marin, where individual musicians come together to form a band. To see what can happen at these classes, read about Minus Mary (to the left).

&nbsp &nbsp The current class features accordion, dulcimer, stand up bass, guitar, fiddle and two-part vocal harmonies. The class has expanded the repertoire slightly to include a Cajun song (in French) and a modern piece in addition to standards from the American songbook. They focus on learning a 45 minute "set" of music and are held to professional standard of quality. This class consists of Corinne Reif on dulcimer and vocals, Victor Vasquez on fiddle and vocals, Jason Roberts on bass, Sara Gardner on accordion and vocals, and accompanied by Steve on guitar.

Steve's students (ages 9-15) will perform pieces from his standard teaching repertoire including Irish fiddle tunes, Modern Scandinavian pieces and Old Time American classics. Steve's approach is based on presenting students with tunes that will inspire his students to play their instrument out of love for the music.

&nbsp &nbsp In addition to being the Artistic Director of Roots Music Marin, Steve was also our founder and has been a board member since our inception. He has been teaching privately for over 15 years, and through Roots Music Marin since he started the school several years ago.

&nbsp &nbsp Steve is a founder and member of the Irish folk punk band Culann's Hounds from 1999 to present, and a founder and member of the Gypsy rock band Beso Negro from 2009 to the present. He has Toured America and Europe many times with his two bands and with country diva Danni Leigh. He has recorded for Grammy Award winner Bobby Ozuna, Goapele, Jake One, Freeway and a plethora of other projects.

Michelle Levy is certified in both the Mark O'Connor String Method and the Orff-Shulwerk approach to teaching music. Specializing in Early Music, folk fiddle styles, and improvisation, she nurtures creative string players with solid technique! Michelle teaches ages 3.5 through adult and offers fun and alternative performance opportunities to the usual "student recital," including playing for English Country and Contra dances with her bands!

&nbsp &nbsp Michelle is proud that many of her students--both children and adults-- now enjoy playing for dances/social gatherings for fun, or enjoy playing as part of religious services in their congregations. Those who have entered competitions have had much success. Most recently, one of her 13 yr. old student was accepted as first violinist in the Livermore-Amador Symphony Youth Orchestra (LASYO) for ages 13-21, and a ten yr old student performed as a soloist in her recent school orchestra concert! Another student, age 6, just won first place in the talent show at her school playing "Soldier's Joy" from Mark O'Connor Book 1!
---
A 3-woman round-robin pastiche

Saturday, November 8 - 8:00pm - $15 Advance / $18 at door

Global, Local & Homemade Songs TM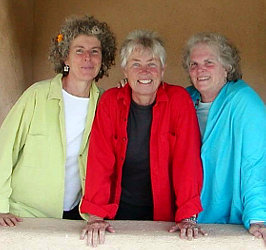 Whether it's a polyrhythmic groove on juju magic, a playful musing on the rhythm of the heartbeat, a march about the mating season of tarantulas, a swing on spring fever, or rockin' and rollin' with a ride on the happiness train, Terry, Becky & Elise cook from the minute they hit the stage. Bringing 3 uniquely different voices to the blend, their harmonies spread a web of joy and the delight of singing together.
ELISE WITT (from Atlanta, Georgia) . From the melodies of her birthplace in Switzerland, the rhythms of Africa and Latin America, her North Carolina childhood, to the writing of her own songs, Elise's music is a gumbo that spans styles, genres, countries, and times. Her straightforward charm and pure, strong voice are truly fine music to the ears. Elise speaks fluent Italian, French, German, Spanish, and English and sings in over a dozen languages. She has 11 recordings on the EMWorld label. Her songs have been used in several documentary films, and include the anthem Open the Window. Elise has crisscrossed the United States performing her songs, including at Carnegie Hall and Lincoln Center.
BECKY REARDON (from Taos, New Mexico). Becky's silky jazz-infused sound coupled with a deep connection to nature and expert guitar work make her music a must. Her songs and rounds are sung in song circles and by university and community choirs all across the United States, Canada, and the British Isles. Becky was a featured performer at the international GALA Festival of Choirs in 2012, and her song Venus was performed during the NASA webcast of the Venus transit of the sun in June last year.
TERRY GARTHWAITE (from Marin). With a voice both "sassy & touching", and a taste for fun, Terry has been creating infectious music since the '70s in the Joy of Cooking band. She cooks with rhythm. Terry is an internationally known singer, songwriter, composer, producer, and teacher. In addition to her several albums with Joy of Cooking, Terry has recorded a dozen others by herself or in collaboration with other jazz and blues musicians. In performance she has shared the stage with such artists as BB King, Janis Joplin, Bonnie Raitt, The Band, Allen Ginsberg, Santana, Rosalie Sorrels and writer Bobbie Hawkins at venues that include Carnegie Halland the Hollywood Bowl.
---
Studio 55 Proprietors Ken & Susan's Band

Saturday, November 22 - 8:00pm - $13 Advance / $15 at door

Solo Performance Debut at Studio 55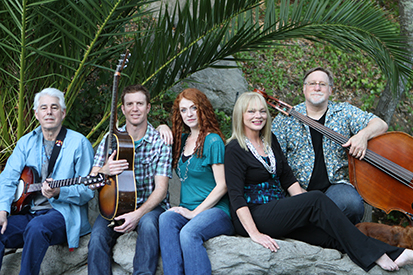 Like the mythical sea maidens of old, Sound of Sirens are mesmerizing audiences with scintillating vocal harmonies and intricate instrumental arrangements. As a finely-woven ancient fishing net, the Sound Of Sirens music will capture and hold you riveted from start to finish. This show will feature blues and rags from the 1920's, old-time traditional songs, originals, and our own take on more recent songs from other composers including Paul Simon and Gillian Welch.
Ken Frankel (guitar, banjo, mandolin) has been part of the California music scene since the 1960's, performing in bands with music notables such as Jerry Garcia, Richard Greene, Rick Shubb, Sandy Rothman, Robert Hunter, and Tom Constanten. Ken's rock band Ill Wind was a New England phenomenon and a leader of the psychedelic music scene, recording with ABC Records. Ken has formed and been a member of many prestigious Bay Area groups including Westwind International Folk Ensemble, The Berkeley Mandolin Ensemble, and The Electric Guitar Quartet. Ken and Susan's most recent band was the well-loved Family Lines.
Susan Nielsen (vocals, percussion) has shared stages with Bob Hope, Merv Griffin, Dick Cavett, Alan Alda, John Madden, Bill Cosby, and other national stars. Susan was a featured soloist as a teen at many Bay Area venues and concerts and worked as a professional studio singer. In her 20's she began a successful acting career in film and television and as a voice-over artist. Susan is a member of Screen Actor's Guild and American Federation of Television and Radio Artists, and has now returned to her musical roots as a vocalist and composer.
Kristina Ziese (vocals, percussion) was classically trained for 10 years, sang in many popular bands in Seattle as well as performing as a soloist and in chamber groups. She now has moved to the Bay Area to become one of our "Sirens".
Jared Karol (guitar, harmonica) is our new guitarist. He is a wonderful roots finger-picker and harmonica player, specializing in rags and blues, but great at all acoustic styles. In the early 2000's Jared was an integral part of the San Francisco singer/songwriter scene, and has recorded five CDs of original music. Jared expanded his musical repertoire in the East Bay reggae band Flannel Canoe for five years, and is now back to playing the American roots music with Sound of Sirens.
Scott Underwood (bass) has performed with various Bay Area music acts since the 1980s. In the last ten years, he has played electric and upright bass with such musicians as Annie Zesiger, Harry Gray, Mike Steed, Rick English, and Rik Elswit, and as a member of the alt-country-pop-rock sextet Acoustic Son.
---
Stunning
Devotional
Pop Music

Saturday, December 6 - 8:00pm - $25 advance / $30 at door

Lloyd Barde Productions Presents:

one of the most beautiful & alluring voices on the planet

Links for Tickets &nbsp &nbsp &nbsp &nbsp



There is nothing like a Donna De Lory Concert! The more intimate the better. Studio 55 Marin is the perfect intimate setting for Donna, and space is limited! Donna is one of the finest singer/songwriters in the realm of spiritual pop music with a voice that is unparalleled in its versatility and emotional expression.
Donna De Lory's new album "The Unchanging" is one of the most deeply personal artistic statements in her deep catalog of mantra music classics. But it resonates on a universal level as well, bathing the listener in chilled out electronic textures, world flavors, sonorous string arrangements, tender balladry and lyrics that touch on the heart's eternal truths. And, as always, Donna's sublime voice has the power to lift us all into realms of pure bliss.
With a string of best-selling and much-loved albums including The Lover and The Beloved (2004), Sky is Open (2006), Sanctuary (2008) and Remixes (2010), Donna De Lory has become one of the reigning queens of world devotional music. Her rapturous performances at yoga and consciousness festivals like BhaktiFest, Omega and Lightning in a Bottle are like one big musical group hug. But before devoting her life to singing sacred mantras and lyrics of spiritual aspiration, Donna traveled the globe for 20 years as a backup singer and dancer for Madonna, and rocked international dancefloors with her own pop music. Donna's latest album, The Unchanging, is a joyous distillation of all that vast experience. De Lory's musical perspective is as wide as the world itself a glistening, multifaceted reflection of her broad experiences in life and music, all while raising a family and expanding her musical vision beyond the imagination.
With fearless vision and consummate mastery, Donna De Lory has appropriated the grand scope and all-inclusive universality of pop music and married it with the heartfelt purity and emotional honesty of devotional music. Above all, it is Donna's voice, fiery and passionate yet with a childlike innocence, that reaches people.
Donna rocks us again with the divine elixir of her extraordinary voice remixed with new music alchemy for yoga, dance, and making love to life... Donna's concerts bring the house down and raise the sky. -- Shiva Rea
---